History
A Division of Hadeed Carpet Cleaning, Inc.
Mercer joins hands with Hadeed Carpet of the Washington, DC Metropolitan area.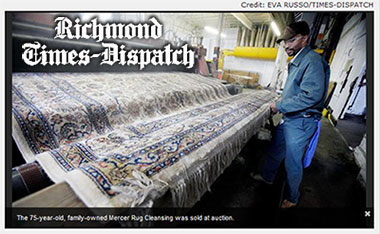 Mercer Rug Cleansing, the 75-year-old, family-owned Richmond business, will stay in the family -- the family of the Hadeeds, a successful carpet cleaning business based out of Alexandria. Mercer, sold to Joe Hadeed at auction, will retain all current employees and revive the business into what it once was.
Hadeed Carpet is one of the most recognized carpet cleaning services in the Northern Virginia region, specializing in Oriental rug cleaning, repair and restoration. Their other services include wall to wall steam cleaning, storage, and tile & grout cleaning. These services will be added to the Mercer Rug Cleansing repertoire, along with FREE pickup and delivery.
"The Mercer and Hadeed families have similar roots, and we will make sure to preserve this business so it can continue to service the Richmond area and beyond," says Joe Hadeed.
Click Here for Historic Mercer Rug Cleaning Photos