Hand Washing of Rugs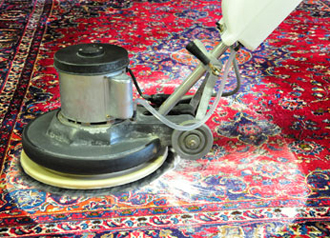 For 56 years, our family has hand-cleaned and repaired Oriental rugs. Although our method may seem old-fashioned, the hand-cleaning process, while labor intensive, is by far the most effective and least corrosive to your rugs. We know that these rugs become a part of the family as they are passed down from generation to generation. In order for them to last for generations to come they must be handled properly by professionals. Individualized attention allows us to offer levels of service consistent with the needs of the rug and our customers. Every rug is unique. Every need is different.
Did you know that several pounds of soil can accumulate in the fibers of your carpets and rugs? Even weekly vacuuming can't prevent this!
The Hadeed Process
Scrub with a mild detergent.
Squeegee. Our motto is: You know you're near when the water is clear.
Final rinse.
Dry in temperature-controlled room. The drying process is actually the most important part!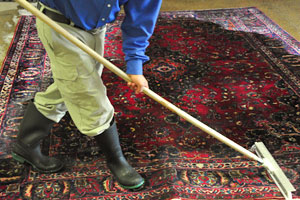 Rinse Process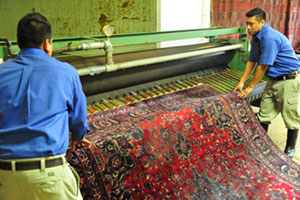 Final Rinse and Ring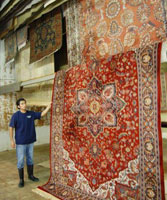 State of the Art Drying Room
Our mission is to see to it that your treasures are cleaned and maintained to ensure they provide warmth, beauty and longevity - as they gain value over time.
Some of the rugs that Hadeed Carpet will clean, repair, and/or restore:
Handmade
Persian
Turkish
Chinese
Tribal
Bokhara
Caucasian
Flakoti
Pakistani
Indian
Kilim Moroccan
Camel/Mo-hair
Sheep Skin
Bear
Braided
Hooked
Machine-made
Decorator/Custom-Made
Karastan/Couristan
Sisal
Stark
Domestic Carpets
Belgium/Machine-Loomed
Shag
Wool
We appreciate the opportunity to make your home a healthier place to live with deep cleaned rugs by Hadeed where "If You Stand On It... We Stand Behind It!"
CUSTOMER SATISFACTION GOALS
To have our team arrive within the committed time window (traffic & weather conditions may affect this)
To have your home and valuables protected by our technicians by placing a Hadeed carpet mat outside your door and wearing protective shoe coverings.
To add value to your rugs and carpets through our services
To exercise care and diligence in quality control
To have your rugs/carpets cleaned and repaired one way - the right way!
To ensure the safe return of your rugs through strict inventory control procedures.
Most importantly, we stand behind our work and will always address and resolve items in need of additional attention.